Saftron salt friendly, high impact polymer ladders are made of specially formulated compounds to ensure longevity and unparalleled resistance to the elements, UV, and chemicals while requiring virtually no maintenance. They are guaranteed to keep their smooth, bright finish for many years.
Key Features
Reinforced, encapsulated steel which provides superior strength and durability
High impact polymer exterior ensures ladder is unaffected by pool chemicals, salt, and sun while remaining cooler to the touch
No grounding or bonding required
Tubing 1.90 inch Outside Diameter
Wall Thickness 0.25 inches
Bends 6 inch radius
Ladder width 24 inches
Ladder height 53 inches
Weight restriction 275 lbs
Three tread steps
Also available in white
Product Warranty: 5 Year Manufacturer's Warranty
---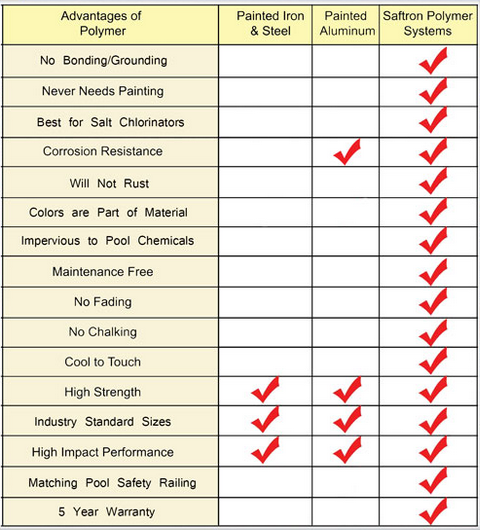 Warranty Coverage: Saftron 3 Step Ladders come with a 5 Year Manufacturer's Warranty. The manufacturer warrants their ladders against defects in workmanship and materials. This warranty will be void if this ladder is damaged as a result of improper installation or use, or if damage is a result of ice. Warranty does not cover any labour charges, or rusting of metals. The ladder must be removed from the pool and stored in a dry place for the winter. Not for use with inflatable or soft-sided pools.
Start a Warranty Claim:To begin a claim please email [email protected] with a photo showing the defect(s)/damage to your Saftron 3 Step Ladder and include a brief explanation of what occurred.